Mise à jour de ma famille de résineux. Il y a eut du changement c'est dernier temps un petit bilan s'impose.
J'ai trois SD ce qui est pour moi une surprie au départ je n'aimait pas cette taille.
J'ai vendu ma Mini-fée mais je me connais je garde le projet de 'en racheter une autre une "céline" peut être.
Update
family
of conifers.
There
was
change
it
last
time
a little
balance is needed
.
I have three
SD
which is
for me a
surprie
initially I
did not like the
size.
I sold my
Mini-
fairy
but
I
know
I keep the
project
'
in
buying
another
one
"
celine
" can be.
Les SD
Volks Lorina dit : Helena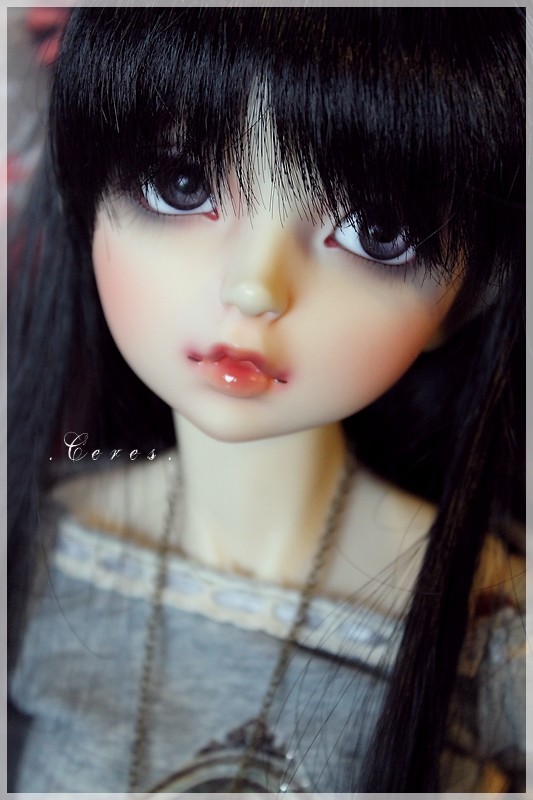 Photo faite par mon amie Ceres
Joyaux de ma collection, helena et belle , belle, belle, belle!
Jewels
of my collection,
helena
is
beautiful, beautiful
, beautiful, beautiful
!
Switch Kiri dit: Amelia
(qui va devenir un garçon finalement un beau steampunk)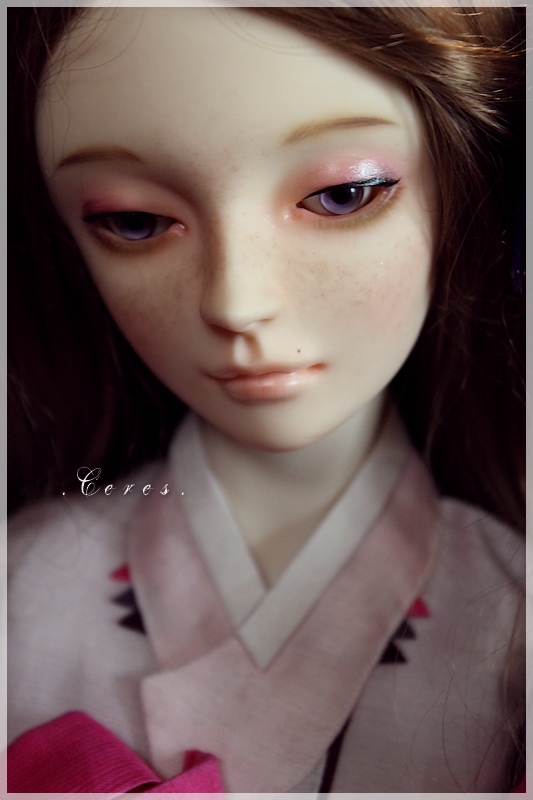 Photo faite par mon amie Ceres
Steampunk dans l'âme, elle imagine plein d'invention pour occuper notre chère petit garçon
Steampunk in
the
soul,
full
of
invention
suppose
to take care
our dear
little boy
Amber Soom dit: "la Vestal"
(Je ne la connais pas encore très bien)
(

I do

not yet know

very well

)
Les MSD
Unoa "o" modifié par Lynxia dit : Petit Poisson
Un peu naïve. Elle s'étonne d'un rien et oublie très vite les choses. (mémoires de poissons)
A little

naive

.

She was surprised

at nothing

and

forget

things

quickly

.

(memories

of fish)
Unoa Sist dit: Artemis (face plate only)
Très intelligente et patiente. Elle aime les balades et la lecture.
Very intelligent and
patient.
She enjoys
walking and
reading
.
Quena Doll Chateaux dit:?
Charmante, envoutante
Charming

,

captivating
Constantine Cerisedoll dit: Lana
Beauté fatal, douce et délicate elle envoute les gens.
Fatal

beauty

,

soft and delicate

it

captivates

people

.
Milkaka fée hybride (Tête Leeke sur corps DollZone celui de la fleur),
siégé sur son trône de fleurs. Douce comme la rosé elle attend le retour du printemps.
sat on

his throne

of flowers.

Sweet as

a rose

she waits patiently for

the return of spring

.
Les YOSD
Soom Beyla dit : Bella
Petite fille tristounette qui adore les confisseries et les fraise. Elle a le pouvoir de se transformer en petit poney pour vagabonder dans la nature.
Little
gloomy
girl who loves
sweets and
strawberry.
It has the power
to transform into
small
pony
wander
in nature.
Kohl Dust of Doll dit : Dana
Dana c'est ma princesse, elle adore les glaces petit elfe farceur.
Dana
is
my princess
, she loves
ice
little elf
prankster.
Soom AFI dit : ?
Pas encore de photo
Petite fille tête brulé elle est très indépendante et n'en fait qu'a ça tête.
Little girl
head
burned
is
very independent
and
in
fact that was
not
that
head.
Volks Ken dit : "Le psycopate"
Il fait peur à tous le monde. Fils adoptif de la fratrie de fille, il ne fait que des bêtises. On lui cherche un compagnon de jeux comme un dragon.
It

scares

everyone.

Adoptive

son

of siblings

girl

, he does

that

silliness

.

He was

looking for a

playmate

as a dragon.
BJD GONE:
Partie chez maman Amandine
Volks Remi dit: Petit poulpe
Photo faite par mon amie Ceres
Petite fille peu farouche qui aime l'aventure toujours accompagné de son crétin de frére.
Shy

little girl

who loves adventure

always accompanied by his

moron

brother

.
Vendu
Miniféé Chloé dit: Zoé
Change souvent de style et de couleur de cheveux. Elle aime la mode et veut devenir artiste.
Often changes
of style and
hair color.
She
loves fashion
and wants to
become an artist.